Our Mission
At Lorraine Fine Jewelry, our central mission is to create and redefine the luxury jewelry experience for every budget. We pride ourselves on our commitment to excellence, extraordinary craftsmanship, and distinctive design. We prioritize customer service, with the goal of creating a unique experience for every client.
We will partner with you to mark any milestone or special occasion, from engagements to anniversaries, or to restyle family heirlooms for your modern lifestyle. No matter the event or loved one you wish to celebrate, we are here to match your desires to the perfect piece of jewelry.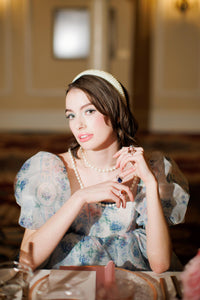 OUR JEWELRY
Jewelry With Soul
At Lorraine Fine Jewelry, our design philosophy centers around the fusion of materials and dreams.
Our jewelry evolves with each stone, its unique qualities guiding the steps of our design process. At the same time, we partner with our clients to create statement pieces that incorporate inspiration drawn from lifestyle, fashion sense, artistic taste, special occasions, and world events.
This specialized process allows us to introduce elegance into your everyday life with trendsetting yet always functional design. By taking pride in every job, no matter how small, Lorraine Fine Jewelry offers incredible value and priceless artistry to every client.
Colorful Gemstones
Lorraine Fine Jewelry is proud to source only conflict-free color gemstones
We focus on incorporating nature's astonishing palette of gemstones to create remarkable jewelry. By maintaining our focus on color gemstones, we have become experts in recognizing quality. Our creations are as diverse as the gems themselves and as unique as those who wear them.
Our array of settings allows you to take your pick between platinum or gold, 14- or 18-karat quality, and white, rose, or yellow tones. We keep on hand the largest inventory of GIA-certified loose diamonds and colored gemstones in the United States, each one waiting to become the jewel of your dreams.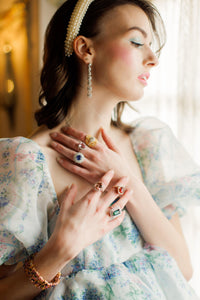 Our Process
Unique
Our goal is to match your unique taste with pieces of impeccable quality at prices that reflect the simplicity of our process. Thanks to direct sales and low overhead, we can offer the finest quality at prices far below other jewelers'.
Education
We pride ourselves on our ability to educate, explore, and create with our clients. During initial consultations, we will walk you through the process, learn your wishes, and address any questions you may have. Whether you plan to choose a gift for that special someone or create a custom piece just for you, we are always ready to help.
Priceless Artistry
We prioritize value, not just in the cost of our designs but in priceless artistry. Each custom piece is the only one of that design we will ever create. Buying from Lorraine Fine Jewelry guarantees receiving jewelry truly special and unique to you.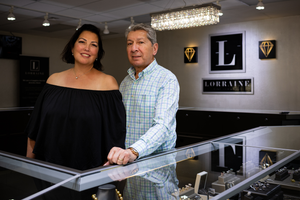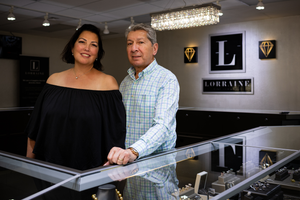 History
Lorraine Fine Jewelry was co-founded by Naim and Lorraine Tunca in 1999 when they relocated to the Inland Northwest after twenty years of selling exquisite creations in Santa Monica, California.
Our reputation and experience as master jewelers are as rare as the pieces we create. We capitalize on expertise and unique relationships gained from a five-generation lineage in the industry. Our team of skilled artisans combine timeless traditions with trend-setting fashions to handcraft beautiful, one-of-a-kind, color gemstone jewelry you can find only with us.
OWNER
Naim Tunca
"Like every customer, every stone is individual and unique."
Naim's journey into the world of jewelry began in 1960s Istanbul, Turkey, when he entered his family's goldsmithing business as an 8-year-old apprentice. At the time, jewelers' designs focused on gold alone, but by his teenage years, Naim was ready for a new challenge: the revolutionary territory of diamonds and color gemstones.
Naim became fascinated with the allure of color-stones. Their exciting individuality, capable of transforming each piece of jewelry into something utterly unique, led him to explore new techniques and foreign countries where he could discover the gems at their sources. A combination of travel to these sources and connections developed over his family's five-generation history in the industry gives Naim access to an exclusive inventory at the best prices.
After moving to the United States and opening his first jewelry store in Santa Monica, Naim's style has continued to evolve with current trends and client needs. His primary concern has always been his clients' happiness. Lorraine Fine Jewelry's clients all agree that Naim's urbane manner and sophisticated tastes support them in making the best choices for their jewelry design.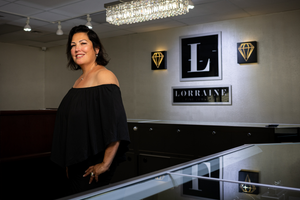 OWNER
Lorraine Tunca
"A luxury experience for everyone, whether you're a celebrity or stay-at-home mom."
For Lorraine, jewelry evokes emotion. Designs are inspired by milestones in life, loved ones, unforgettable places, perfect moments.
Lorraine sees fashion as an essential form of self-expression, and jewelry as the most timeless aspect of that self-expression. Her vision is that clients will collaborate with her and Lorraine Fine Jewelry's team of designers to create their own personalized fashion rules.
Her philosophy focuses on educating wearers so that they can make the perfect statement about their lifestyle, no matter who they are or where they live. Lorraine Fine Jewelry's clients agree that Lorraine is a breath of fresh air, cooperating with Naim in a perfect balance. Her advice and support helps customers achieve an indispensable marriage between fashion and function that makes a piece of jewelry truly classic and unforgettable.